Marywood Players will bring light to an important subject in 'How I Learned to Drive'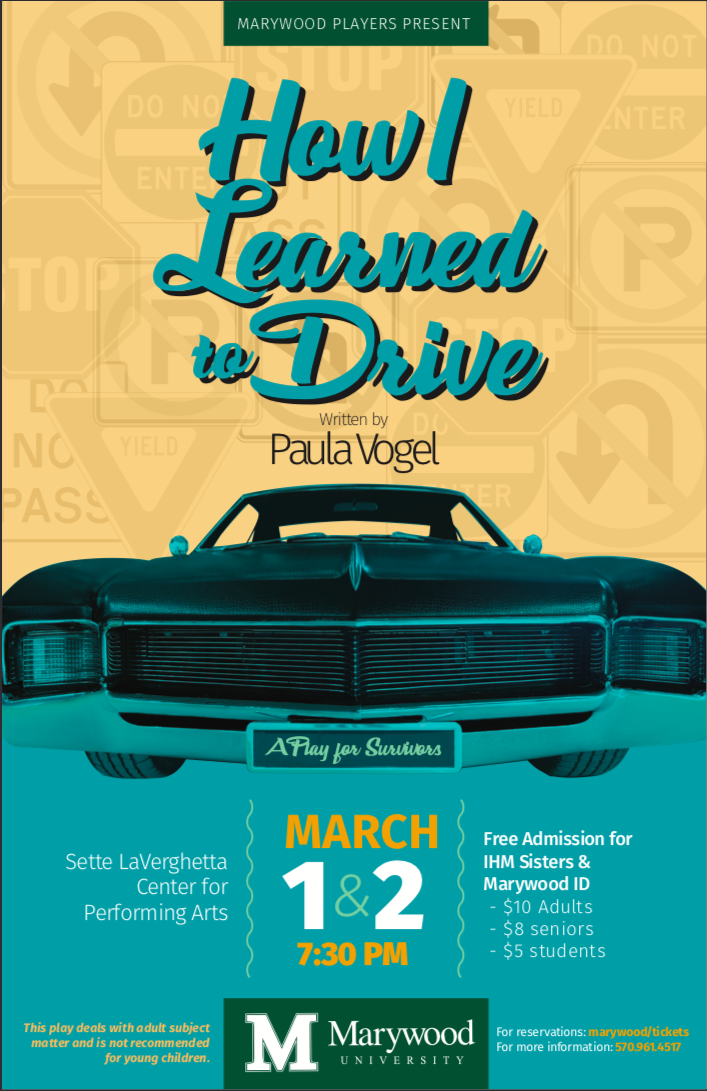 The Marywood Players will present Paula Vogel's "How I Learned to Drive" at the Sette LaVerghetta Center for Performing Arts this weekend.
"How I Learned To Drive" is the story of a woman nicknamed Li'l Bit as she tries to overcome a sexually abusive relationship with her aunt's husband, Uncle Peck, which lasted throughout her childhood.
According to director Charles Gorden, "How I Learned to Drive" is a play for survivors. He explained how it brings awareness to a subject relevant to today's society.
Over the past year, movements like #MeToo have helped spread awareness of sexual violence worldwide. Given that March is Women's History Month, Gorden believed this was an appropriate time to put on this production.
Richard Nielsen, a full-time actor who will portray Uncle Peck, believes the show carries a powerful message for everyone.
"It is a play not just for survivors, but for their loved ones," he said. "It's for those who feel lost and voiceless, even the people who might be opposed to such thoughts or content that this show brings."
Nielsen said he feels the show is very important in today's society and reflects the new awareness of sexual violence.
"I think a show like this can and should really resonate with all who come to see it," said Nielsen. "Whether you are open to the thoughts and themes of this story or not, it's a story that has a right and reason to be told."
Junior Theatre major Melina Barry, who will be bringing Li'l Bit to life, said this has been the hardest role she's ever prepared for.
"The process of getting into character has been extremely painful, uncomfortable, yet rewarding," she said. "To try and embody a women who has been abused throughout her childhood has been heartbreaking."
Aside from the difficulty of her role, she also found that the journey through her character has been very inspiring and healing.
"The way she faces her trauma, examines it, and decides she is strong enough to move forward and tackle life is amazing to me," said Barry. "The way she reaches out to the audience and teaches them that nothing is stronger than their own ability to pick themselves up and dust themselves off is something I hope to carry with me for my entire life."
Barry encourages people to come see the play because she believes it is about much more than abuse.
"It's about the complexity of what is it to love someone, heartbreak, coming of age and taking ownership of your own life," she said. "It's a play written for survivors. That means it's a play for every one of us."
"How I Learned to Drive" will be held Friday, March 1 and Saturday, March 2 at 7:30 p.m. The Players warn that the play contains adult subject matter and is not recommended for young children.
Following both performances, the audience is invited to stay for a talkback session moderated by Heather Stuart, a professional counselor, and Sr. John Marie Southwick.
Tickets are available online and at the box office both nights of the show. Admission to the show $10 for adults, $8 for seniors, $5 for students and free for IHM sisters or anyone with a Marywood ID.
Contact the writer: [email protected]
Twitter: TatianaTellTWW