Marywood performers hope to bring healing with "Elegies: A Song Cycle"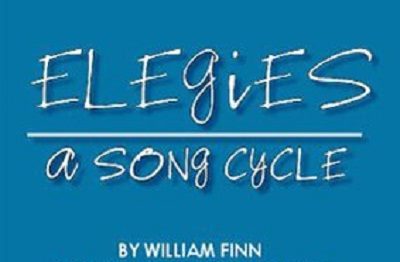 Performers from the Theatre department will take center stage from Feb. 26 to Feb. 28 at the Sette LaVerghetta Center for Performing Arts for "Elegies: A Song Cycle."
This production is a series of autobiographical musical numbers written by composer and lyricist William Finn. Theatre Department Director Dr. Timothy Pyles explained that Finn wrote these pieces after the Sept. 11, 2001, terrorist attacks.
"Being in New York during 9/11 he felt a need to try to process that enormous loss of life," said Pyles.
Some of the pieces featured in the production are explicitly about the terrorist attacks; however, some songs deal with other moments of loss. Pyles noted that the deaths associated with the COVID-19 pandemic caused him to choose this production.
"Each of those individuals [who died from COVID-19] has family and friends that are mourning them," said Pyles. "I wanted to pick a show that dealt with trauma and loss and how to process those emotions."
Pyles explained that his favorite part of this production is working with the students.
"They make my job easy because they are talented and hard workers," said Pyles. "They have wonderful, positive attitudes."
One of those students is Sophomore Musical Theatre major Leanne Onofrio. As theatres shut their doors due to COVID-19, Onofrio said she is grateful to perform in this production.
"It's such a blessing to be able to perform," said Onofrio. "Not only are the people involved in producing theatre missing it, but just the world is missing theatre."
Onofrio explained that the ability to show this production speaks volumes about the Marywood community.
"I'm so grateful that our theatre department has found ways to have us do live theatre," said Onofrio. "It shows that live theatre is not only important to the department but also the university."
Pyles said he hopes this production will help people through this tough moment.
"I know that we're all feeling a lot of anxiety and I hope that folks will take an hour and a half to come to see it and, hopefully, it can be healing for people," said Pyles.
To ensure a safe production, the department has instituted several guidelines. All actors will be physically distanced and will wear face masks. The audience will also be physically distanced and will be required to wear face masks.
The performances will happen on Feb. 26 at 7:30 p.m., Feb. 27 at 2 p.m. and 7:30 p.m., and Feb. 28 at 2 p.m. Performances are free and open to Marywood students, faculty and staff only.
Limited seating is available on a first-come, first-served basis. A virtual option will be available for the Sunday performance.
Contact the writer: [email protected]
Twitter: @BrianaRyanTWW