The power of plastic: shopping with your student ID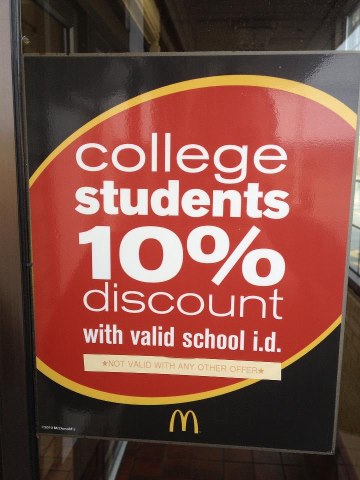 Between eating large amounts of mac and cheese and late nights filled with studying, college students are always trying to find a way to save a few extra bucks.  With the rising cost of college (and everything else), students are always struggling to make ends meet. Yet, what many of them don't know is that the little plastic card with their school, picture and name on it can help them save that extra cash.
Many businesses actually give discounts to students with a current student ID. Big companies like Apple and Microsoft offer deals for students buying computers. Certain car insurance companies, like Geico or Allstate, offer discounts to college students as well.
"I do think about using my student ID, but I probably don't use it as much as I could," said freshman Kate Grow. "I only know of a few places, like Charlotte Russe, and that is only because they have a sign at the checkout."
Looking for something to do on a Friday night? Cinemark offers discounted movie tickets to those who show their student ID. Even some cell phone companies offer a 10 percent discount on monthly bills for students. AT&T and Verizon both offer anywhere from 10-18 percent discounts for students.
When strolling the mall, not many students think to pull out their ID while shopping. Students can save up to 20 percent at most retail stores. Stores like Ann Taylor, J. Crew, Charlotte Russe, Banana Republic, Club Monaco, even Barnes and Noble offer discounts to students who show their student IDs.
Eating on campus can fill a person with great joy, but sometimes it's good to get out. Places like the Waffle House, McDonald's, Burger King, Dairy Queen, Arby's, Chipotle and Subway all offer 10 percent discounts to students with a school ID.
"Not many students know that McDonald's offers discounts to students," said Marywood student and McDonald's employee Dennis Ramos. "Sometimes people will ask if we offer discounts, but not very often."
The Bistro also offers a 15 percent discount to students and Marywood employees.
The moral of the story here for students is to always bring out the student ID. One never knows where the discounts may lie