Zumba classes now offered at Marywood University
Kelly Rickert
Assistant Layout Editor
Zumba is the latest fitness craze sweeping the nation, the world, and now, Marywood University.  Zumba is a Latin fitness cardio dance program. Marywood began offering this program as a fitness class at the Mellow Center last year. It is an excellent workout, with both physical and mental health benefits, thus the program is growing in popularity on campus.
So what exactly is Zumba? Gianna Muracco, the Zumba instructor at Marywood University and a few other locations in the area, said, "It's a mixture of dance styles including merengue, hip-hop, cumbia, reggaetone, salsa, and much more."
Zumba offers terrific exercise, as a person doing an hour long session can burn 500 to 800 calories, but it can also offer mental health benefits. "They say Zumba makes you smarter, which I believe is true, because not only are you dancing and working out, but you're training your mind to do different steps for coordination, your arms and your legs are moving at the same time, so therefore you're challenging yourself, making yourself more well-rounded" said Muracco.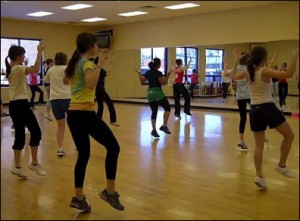 With both mental and physical health benefits, it seems that Zumba is a beneficial program while still being enjoyable for those participating in the class. In fact, Jaya Mcallister, a Marywood undergraduate student who started attending the class last semester said, "I love it because I used to take dance, so it fills my want to dance, but it is also giving you an incredible workout. It's a way for you to unwind and learn some dance moves to feel good about yourself… it's also a great way to tone up and lose weight."
Along with the health benefits and the fact that it is a fun workout, it also gives students a chance to have a good time and meet other students in the class. Gianna Muracco said, "An hour flies by, you're having fun and you get to socialize."
With Zumba being so beneficial and fun, it is no surprise that there is a great turnout for the classes on campus. Muracco adds that the students are "active and into learning about different styles of dance and working out, [in order to] relieve stress from schoolwork. Sometimes the gym can get boring, with the same old, same old, so dancing to music and enjoying their time dancing is a great way to work out."
With Zumba constantly increasing in popularity, nationally and locally, Marywood now offers several classes per week to fill the demand. During the week, there are classes on Mondays at 12:00 p.m. and Thursdays at 6:00 p.m. and 9:00 p.m. Classes are also offered on the weekends starting Saturdays at 1:00 p.m. and Sundays at 7:00 p.m.