Marywood student struggles with M.S.
Vincent Mecca
Lifestyles Editor
If you saw this girl, shown in the picture on the left, walking around Marywood, the last thing on your mind that you would ever think was that she had a serious disease. A disease which affects her day-to-day activities.  Rose Bonevich, a senior studying Digital Media here at Marywood suffers from a disease called Multiple Sclerosis (MS).
"MS is basically an autoimmune disease that attacks the central nervous system and the spinal cord and deteriorates the myelin sheath around the nerves." explained Bonevich.  "For me, it makes me really tired and fatigued, I can take really long naps. I've been on medication to keep me up during the day, but it bothers my eyes and  makes it difficult to see certain things. The medication also affects my memory more than someone without the disease, it may take me reading a chapter three or four times to really retain it.  Sometimes I can get really cold, a really bad headaches, and I'm a little off balance at times."
Rose first got sick when she was 14-years old and was diagnosed at 15 after a brain biopsy and spinal tap. As part of the MS Society, Rose would collect donations for the society and for the annual MS
Walk. This year the walk is being held at Kirby Park in Wilkes-Barre on May 21.  She attended a MS camp in Rhode Island, which is supported by Stony Brooke Hospital (NY) who helps pay for the retreat.
"It brings us together to show how we're all facing the same disease, yet we're still all different. We went kayaking, rock climbing, and other activities." Having MS doesn't stop Rose from living a normal life.  She goes to the gym frequently, and she loves going out to clubs and dancing with her friends.   She enjoys doing different things within her Communication Arts major such as working her shift at Marywood's radio station, VMFM and Marywood's TV station, TVM.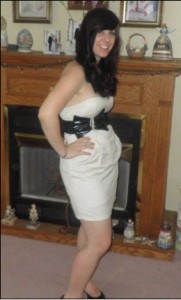 Bonevich was a part of the Make A Wish foundation, and she was able to meet Fall Out Boy. Rose remembers,  "I heard my mom telling my story to someone over the phone and went downstairs, she told me it was Make A Wish.  A week later they came to my house and gave my family t-shirts and told me to draw my wish on a piece of paper.  I drew a picture of Fall Out Boy,  just wanting to attend a concert.  They then told me I was actually going to meet them near Pittsburgh.  A limo came to pick us up and we were taken to their concert and given VIP seats and tickets.  Everything was paid for, and we were offered food and drinks.  Right before the concert, Fall Out Boy's manager came out and asked if I was ready to meet them.  He took us back to the dressing room and we were waiting for a bit, then they came in and I was ecstatic to meet Pete Wentz.
"The band gave me a hoodie, t-shirts, and signed memorabilia. I was so nervous I could barely talk. I was taken into the sound booth during the concert and it was pretty cool to see how things were done.  It was definitely one of the best experiences of my life and if I could do it again I would in a heartbeat."
Bonevich explained some of the places and people she must frequently see for treatment of her disease.  "Sometimes if your symptoms are bad you might have to go on a steroid IV for several days. A nurse will come to your house and administer the IV to help deal with your relapse and give you energy to get on with your life.  At the same time steroids  can have a negative emotional effect though."
Bonevich has to go for a MRI test every year. "I have an MS specialist at Thomas Jefferson in Philly who does research on MS, and I have a neurophysiologist who focuses on studying my memory to see if it has improved or changed at all." she explained. "I go to a neuro-ophthalmologist who is an eye doctor who makes sure my optic nerve is alright." According to Bonevich, sometimes with MS
you can go blind and when she first got sick she couldn't see when she was in a warm bathtub.
Patients in a hot bath years ago who got sick would know they had MS due to the optic neuritis. Despite having worries that most college student don't have, she doesn't let it stop her from achieving her goals in life with great optimism. After graduation she aspires to find a good job in a large city working for a radio station or a news station.