NEWS BRIEF: Master of Social Work student awarded spot in Minority Fellowship Program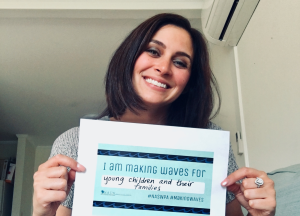 The Council on Social Work Education (CSWE) recently awarded Marywood University Master of Social Work (MSW) student Kristina Valdez a spot in its Minority Fellowship Program.
According to the CSWE website, the purpose of the fellowship is to "reduce the effects of substance abuse and mental illness on America's communities by increasing the number of individuals trained to work with underrepresented and underserved racial/ethnic minority persons with or at risk for mental health and/or substance abuse disorders."
Director of Marywood's Pocono MSW program at East Stroudsburg University Dr. Lloyd Lyter said Valdez will work with industry leaders to help create a dialogue between social workers and minority communities as part of the program.
"The students who apply are committing to work with minority populations in mental health and substance abuse areas," said Lyter.
Valdez said she is excited to help shed light on a growing need in the social work industry.
"I'm really looking forward to learning skills to more effectively work with minority populations," said Valdez. "There's been a lot of need for skill development in the workplace around diversity and around cross-cultural communication, so I'm really looking forward to this and seeing how culture affects the way someone sees something or works."
Valdez is the second student from this program to be awarded this fellowship in the last two years. Kandia Palmer was awarded the fellowship last year.
Lyter said he sees another student from the program winning this award in the future.
"The quality of the students in the School of Social Work is very, very great," said Lyter. "My hope is that we keep the record [of recipients] running for the Pocono program."
Contact the writer: [email protected]