COVID-19 precautions and subsequent student survey sheds light on campus reactions
Marywood University's COVID-19 precautions for the fall 2020 semester have created mixed feelings around campus.
Assistant Provost Leslie Christianson emailed "The President's Check-in Survey," as requested by university President Sr. Mary Persico, to students on Sept. 11. The 476 students who completed the survey responded to questions regarding the COVID-19 protocols, campus life and the HyBridge Education Model.
According to the results, 85% of resident students who completed the survey reported being satisfied with Housing and Residence Life's COVID-19 protocols.
Regarding the HyBridge Education Model, a combined 62% of respondents reported being satisfied, either extremely or somewhat, with the model. An additional 17% of respondents said they felt neutral on the question. The percentage of students who felt dissatisfied, both extremely or somewhat, came in at 21%.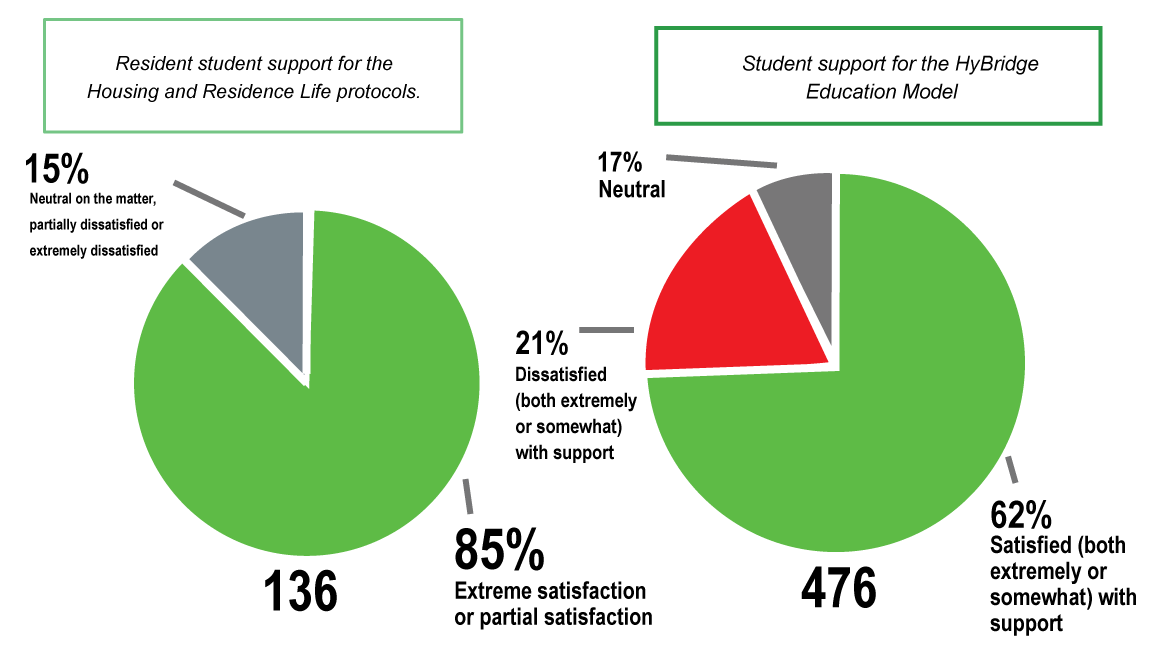 Students had a range of sentiments toward their on-campus experiences. Some spoke highly while others responded critically.
Alexis Palys, Student Government Association President and a senior computer science major, said she's seen genuine support and preventative action among her peers.
"From my own personal experience on campus so far, students are really complying and willing to work with the guidelines that have been put into place," said Palys. "I commend our community for being safe and following all our guidelines, especially when, compared to some universities, we seem to be doing fairly well with keeping cases down."
Palys also said she feels it is encouraging to see students still engaging in various campus activities.
"Our campus, students and staff alike are a resilient group and are making the best of every situation," added Palys.
Rachel Yohn, a first-year medical laboratory science major, said she is generally pleased with the current safety precautions.
"Overall, I feel that Marywood's precautions have helped limit the spread of COVID-19," said Yohn. "The only thing I would change is being able to take masks off when doing outside activities."
Savannah Shannon, a senior education major, said she feels Marywood is handling things very well, but after witnessing the university shutting down in the spring, she was concerned about this semester.
"I was definitely worried after hearing how [in] some classes, it was up to the professors on what was going to happen," said Shannon. "But once the professors started asking us [students] whether we wanted to be in-person or online, it made me feel better."
Faculty reactions also mixed
The overall response from faculty and staff has been similar to students.
Dr. Deanne Dulik Garver, Science Department chairperson and Faculty Senate President, disclosed that the Faculty Senate is generally pleased with the HyBridge Education Model.
"I think the reaction of the faculty is supportive, overall, but there are some faculty who have concerns about medical issues and being on campus for long periods of time, just as students would," remarked Garver.
Garver said she feels the university is handling things in a reasonable manner, but says a keen eye should be kept on any upticks that occur within the community.
"From my perspective, and the Faculty Senate agrees with this, health and safety are our number one [priority] and delivering a quality education is number two," said Garver.
Garver said everyone is making the best of a difficult situation. She added that if the Marywood community can keep the spirit of kindness and overall respect for one another, the university will have the best chance of being successful with its plans moving forward.
Pandemic Coordinator issues mask compliance warnings
Dr. Yerodin Lucas, Marywood's Pandemic Coordinator, has issued mask compliance warnings to students in the Marywood community via COVID-19 Campus Advisory emails.
The initial compliance warning email, sent out on Oct. 30, explained that a number of faculty and staff have been reportedly not wearing masks when inside buildings around campus. A high number of students have also not been wearing masks while inside the Learning Commons (LC).
Since Aug. 24 the university's COVID-19 Dashboard has reported that 44 students and 5 employees have tested positive.
Following the first mask-compliance email, table tents were placed in the LC to remind the community when and where one must wear their mask. The email also said that any student not adhering to guidelines would be referred to Dean of Students Ross Novak for the next step in disciplinary action.
Then, in a second COVID-19 Campus Advisory emailed on Nov. 6, Lucas reported that many members of the Marywood community were still not adhering to the guidelines even after those new table tents were added.
"These actions [not wearing a mask or following the COVID-19 guidelines Marywood has set forth] put us all at-risk, and leave us with little choice at this stage," read the Nov. 6 email.
Shortly after the second email, signs were added to the doors of the LC. These signs explain the mandate to wear a mask and that anyone not following the rules will be asked to leave the building.
According to the second email, "any person found not appropriately wearing a mask/face covering will have their name taken and be asked to leave the building." The new rule is in effect for all campus buildings.
Contact the writer: [email protected]