Marywood builds new aquatics center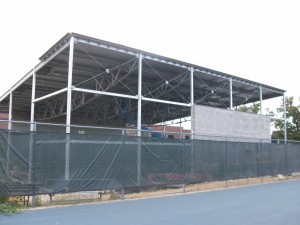 Megan McGraw
Staff Writer
The addition of the new Aquatics Center marks a new era in intercollegiate sports with the inclusion of swimming and diving at Marywood University. In addition, Marywood also welcomes Greg Brown, Aquatics Director and Swimming and Diving Coach, to its campus.
Greg Brown is the former head coach for women's swimming at Division I Siena College. To most, the switch from a Division I school to a Division III school is by no means a downgrade. The opportunity to run a new swimming facility enticed Mr. Brown. "I could really put my stamp on it and be there on the ground floor," said Brown. According to Brown, the switch from Sienna to Marywood is the change he was looking for in his career. This also gives Brown a chance to coach both the men and women's swimming and diving teams.
The swimming and diving teams introduce the fifteenth and sixteenth intercollegiate sports teams to Marywood University. Mr. Brown seemed excited to share his goals for the team and the pool, despite the completion of the Aquatics Center being off in the distance. The team will utilize the campuses current facility in the School of Architecture. "We'll have our good days and our bad days, but I think that it is going to be an exciting way to get started and it will certainly make it easier starting in the fall of 2011," said Brown.
However, the new Aquatics Center will not only serve the athletes of Marywood University, but other students as well as the surrounding community.
Dr. Mary Jo Gunning, Director of Athletics and Recreation, said she hopes area schools benefit from the pool. Students may also have an opportunity to experience dive-in movies, a variation on drive-in movies.
The new pool is definitely a necessity. According to Dr. Gunning, the old facility was constructed in or around 1952. "There really is no rhyme or reason to it," stated Gunning in reaction to the pool located in the School of Architecture. Marywood's new facility will house an eight-lane Olympic-sized pool. Once completed, it will be a top of the line facility. Dr. Gunning and Mr. Brown both agree the new Aquatics Center will draw prospective students to Marywood University. "It's shiny, it's new, almost like that Christmas present you just opened," said Brown.
In 2006, Marywood University's Center for Athletics and Wellness opened its doors. This marked the beginning to Marywood's twenty-five million dollar Athletics and Recreations expansion. With the construction for the Aquatics Center underway, this indicates the third and final phase of the Athletics and Recreations expansion on the campus.