Wilkes-Barre/Scranton Penguins poised to win the Calder Cup
Amber Mohrmann
Staff Writer
The Wilkes-Barre/Scranton Penguins have just begun their season out on the ice and are going after the coveted Calder Cup. They fell short last year and lost in the first round of playoffs, but have reloaded and are ready to take on their competitors.
With new head coach John Hynes at the wheel, the Penguins are ready to take on rivals such as the defending champions the Hershey Bears. Hynes was the assistant coach last season and has coached many championship teams in his career.
There is also a new assistant coach on the team, Alain Nasreddine, who played for five seasons in Wilkes-Barre/Scranton and has had years of experience in the American and National Hockey leagues.
The new coaching staff will be accompanied by returning players such as forwards Tim Wallace, Zach Sill, Kevin Veilleux, Chris Connor, Dustin Jeffrey, defensemen Brian Strait, Robert Bortuzzo, Steve Wagner, and goalies John Curry and Brad Thessien.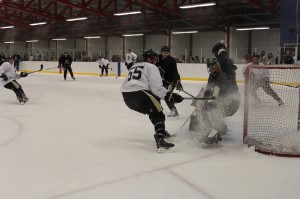 Along with the returning players, rookies such as Jason DeSantis and Carl Sneep are fighting to prove they have what it takes to stay on the team. With many young players and a few veterans, the Penguins are a fast and physical squad and they are ready to take on any team standing in their way of the championship.
The Mohegan Sun Arena in Wilkes-Barre is once again the home to the Penguins this season. There will be many promo nights offered this season, with giveaways including items such as hats, bobble heads, posters, and other fun gifts that every Penguins fan would love.
Along with promo nights, there will also be theme nights where the team wears special jerseys that eventually get auctioned off to fans. Every game is an exciting experience for new attendees and long time fans, and something new is seen every game. It is a physical and fast moving sport that everyone can enjoy. Student prices are available as low as $12 with a college ID, so everyone can afford the game. There are also practices open to the public for free every week. Check out the Penguins' website, www.wbspenguins.com, for further information.