Campus Love Stories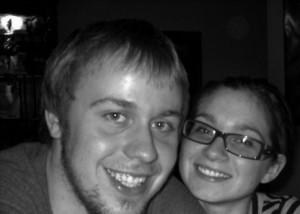 By Marie Leopardo, Distribution Manager
Justine Carmine, Lifestyles Editor
Forget High School Sweethearts, we have quite a few College Sweethearts here at Marywood, still going strong. Whether it's been two and a half years or two and a half months, anyone can find love here at Marywood.
Marywood's campus is full of successful relationships….
There are two couples that I have known since the very beginning of my freshman year. Actually, the real story begins during my freshman orientation; the theme was "Got Marywood?" I met many great people that day who have been my friends ever since. That night I would have never thought that Justine Carmine and Mark Baron would end up dating and, better yet, studying abroad together in England. They are both English Literature majors and are traveling to Egypt this summer. They began dating on September 1, 2005. Ironically, two of my friends that I introduced during a roommate's birthday party began dating the very same day.
Another couple, Sara Malta and Jason Blazosek, also met while at Marywood. They met through a friend, Gina, in class. They are both in the Education department; Sara is currently student teaching for a first grade class and Jason is involved in the Special Education major. Jason is also involved in the Council for Exceptional Children and Sara is busy this semester with Pre-Student Teaching.
Love at Marywood goes beyond just dating. Two people who have received degrees from Marywood, and are engaged, are Rachel Alson and Will Baldini. Rachel and Will met in September 2001, when she was a freshman and he was a junior. They were both residents of Madonna Hall and they met at a party, where they found out they were both Business Majors. Rachel then offered to tutor Will in accounting because they both shared the same business classes together. Rachel and Will ended up going to each others class formals at Marywood until Will graduated in 2003 and Rachel graduated in 2005. Today, Rachel and Will live three blocks away from each other and she is an accountant for Parente-Randolph in Scranton and also coaches the Marywood Dance Team, and Will owns his own eBay business. They are planning to marry on October 18, 2008 at the St. Paul's Parish in Greenridge and their reception will be at the Country Club of Scranton. Their tentative honeymoon destination is Hawaii.
Another couple heavily involved in the Marywood community is Laurie Camlet and Ryan Houser. Laurie and Ryan met during their freshman orientation and were both Theatre majors and English minors. They shared many of the same classes together and worked on every show together. Both acted as officers for the Marywood Players.
Although Ryan and Laurie met during their freshman orientation, they did not start dating until the beginning of their sophomore year at Marywood. "We both felt that it was important to experience our first year of college on our own," states Laurie. So, after one year of being very good friends, they began dating, and have been inseparable ever since. Laurie completed her Bachelor's degree in December 2006, and Ryan graduated in May 2007.
Currently, they are both finishing up their graduate work here at Marywood and will graduate with Master of Communication Arts degrees this spring. They are both still heavily involved in the theatre program here at Marywood. Laurie is the director and Ryan is scenic designer of the upcoming musical Wonderful Town, which will be preformed on February 22, 23, and 24. For future plans, Laurie has applied to Marywood's doctorial program in hopes of receiving her Ph.D. They both hope to settle into the field of theatre and are interested in working in theatres as well as teaching theatre at the university level. They also were engaged this year on Christmas after dating for three and a half years. "We are thrilled to be able to call each other "fiancé," and we look forward to planning our wedding and our lives together."
It may be February but don't let a lack of love get you down because there are many opportunities to find love on campus, in between studying, homework, internships, work, extracurricular activities and student teaching.