Saint Patrick's Day the True Irish Way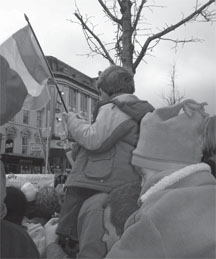 By Kaitlin Johnstone
Copy Editor
I recently had the opportunity to spend a semester abroad in Ireland. Imagine my excitement when I realized I would be there for the great holiday known as St. Patrick's Day. Where better to celebrate the holiday of the Irish than in Ireland? If it's this great in America, it can only be that much better in its country of origin, right? Well, from personal experience I can tell you, I guess that depends on your definition of great.
Not to say that St Paddy's Day celebrations in Ireland are bad, they're just different. From the moment I stepped foot on Irish soil I was being prepared for this. Almost immediately, the orientation staff pleaded with us not to expect the uproar and giant festivities we are used to. Mind you, I landed in December, three months of preparation was what they felt necessary.
This holiday in Ireland is not celebrated with the extremes we are used to. Many of them find our traditions simply absurd. Why do we feel the need to dye a river green? And why in the world would we ever mess with the color of beer? They quickly informed us that things are done a little bit differently there.
St. Patrick's Day is the national holiday of Ireland. It is a time for family. It is a holy day of obligation. Businesses are closed, classes are canceled, the country, in a sense, shuts down. You see families going to church, eating meals, and just spending time, together.
People are seen walking down the streets with shamrocks on their lapels. The colors of the flag – green, white, and orange- are displayed with pride. Even the pubs close down for the day. However, with the great expectations of foreigners, primarily Americans, to experience an unbelievable time during this special holiday, Ireland decided to make a few changes.
Starting in 1995, Ireland decided to give the visiting public what they wanted. Pubs began to remain open, parades were organized, and festivities were arranged. All of this was admittedly done to appease the tourists. Last year over 500,000 people attended the parade in Dublin, the largest in the country. However, most of these were visitors. Furthermore, the parades seem to lack any idea pertaining to the Irish holiday.
So here's where I take you through my Irish St. Paddy's Day. Learning of the planned parade, I woke up that morning anticipating my first true St. Patrick's Day experience in Ireland. Walking the distance to the location with fellow Americans we played a game of verbal badminton, tossing ideas to each other about what wonders could possibly be involved in this parade. You can imagine our astonishment when we witnessed paper mache bugs, hockey players, and strange fictional creatures — that weren't leprechauns — coming our way! Imagine our disappointment when we didn't hear one bagpipe! Or one Irish accent! The audience was filled with tourists and foreigners, the only Irish citizens seemed to be the ones partaking in the parade. With our baffled demeanor we moved on.
The next stop, naturally, was to the pubs. The Irish, while there, were not necessarily the most plentiful. The Australians, Canadians, and fellow Americans however were rampant. There was no Irish music, no shamrock decorations littering the walls, no countdown sign, or alcohol paraphernalia. This night at the pub was like any other.
While the Irish tried to provide entertainment and live up to high expectations, they were more concerned with spending it their traditional way, at home with family. Sure they made it out at night, but it was nothing like we are used to. Did I get my bout of Irish culture? Definitely. Did I have a great time? One I'll never forget. Being in Ireland for this grand and brilliant (a little Irish slang for ya) holiday is pure elation, whether it's what you expect or not. There is no doubt in my mind, or feeling of disappointment in my body, that I didn't experience a true St. Patrick's Day. And while this day may have been calm by American standards, it is the one St. Patrick's Day that will live in my memory forever, green beer or no green beer.