A True Marywood Education: Beyond the Academics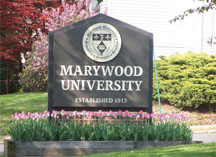 By Paula Ralston Nenish
Staff Writer
Another semester at Marywood University is about to end and I, like many students, am preparing for Commencement on May 11.  As I reflect on my education and experiences, I realize that not only does Marywood provide quality, reputable, and competitive academic programs, but also offers an array of possibilities and opportunities which allow for growth, professional development, enrichment, and enjoyment.
Some possibilities are advertised in brochures and postings throughout campus, and others are communicated through faculty, students, e-mail, and The Wood Word.  Regardless of source, there are endless opportunities for students to pursue.  It would be beneficial for a student to identify his/her own interests and match those interests with offerings throughout the Marywood community.  Because there are such diverse organizations and service efforts on campus, matching those interests should not be difficult.
For example, I enjoy writing and sharing information and experiences with others.  I did not study journalism or English, but I wanted to communicate to others through writing.  So what did I do?  I spoke to a writer for The Wood Word who introduced me to Ann Williams, Faculty Advisor.  I was encouraged to create articles, and as a result I have been able to share information about interviewing, etiquette, events and ceremonies on campus, and personal experiences.
Another opportunity I had the pleasure to take advantage of was forming Net Impact NEPA, a local chapter of Net Impact, an international organization dedicated toward using the power of business to improve the world.  This opportunity was bought to me through Atty. Brian J. Petula, Assistant Professor of Business.  Forming and growing this chapter has allowed me to improve leadership skills, build friendships, host and plan events on and off campus including semi-annual Forums on Ethics, Leadership, and Corporate Social Responsibility, and interact with Marywood faculty, administration, and staff.
One final example, but certainly not the last or least, is having the honor to serve on the search committee to participate in the selection of Marywood's 11th President, Sr. Anne Munley, I.H.M., Ph.D.  This provided the opportunity to work with a professional search firm, and Marywood trustees, administrators, faculty, and staff.  The experience was positive, memorable, and exciting.
It is apparent that Marywood experiences lead to improved skill sets, additional opportunities, and self-gratification.  Also, they help an individual become well-rounded, develop leadership qualities, establish priorities, enhance time management skills, and present challenges which seemed unmanageable but can be overcome.
The bottom line is that I identified my interests, determined how I could match those interests in the Marywood community and pursued them without hesitation.  The time and effort was manageable and I have not only learned a great deal from these experiences, but developed personal and professional relationships in the process.
Marywood offers many services to guide students through their academic and volunteer programs, but the student must take responsibility and the first step by expressing interest.
A few words of wisdom for any student pursuing their interests are to realize that participating or volunteering in activities, service programs, etc. is extremely rewarding, but it also requires commitment, dedication, and diligence from the student.  Approach these endeavors with seriousness and professionalism and you will earn respect of others and be commended for your valuable efforts.
Whether you are about to complete your first or last year as a student, there are unlimited opportunities available to you through Marywood University.  I challenge you to reflect on your personal experiences and interests this summer and compare them to what Marywood has to offer.  When you return to campus, pursue your interests and direct them toward the Marywood community.  For those of you completing your program next month or over the summer, check out the Marywood Alumni Club (MAC).  The MAC plans events, trips, and social functions to engage alumni after graduation.
Our academic programs do not last for a long period of time.  Why not take your academic experience to a new level by accompanying it with service, leadership, volunteerism, or personal interest possibilities?  There is a lot to be gained from these experiences outside of the classroom and in the end you will thank yourself and graduate with more than an academic degree