Amazing Alumni: Fleming Mies Environmental Awareness With Loofa-Worthy Luxury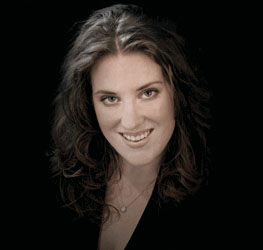 By Lauren Tyrrell
Editor-in-Chief
In February 2008, the New York International Gift Fair awarded Danielle and Company the title of "Best in show" for its "All-in-One Organic Soap Garden," marking the company's third best new product win in six months.
What's so special about Danielle and Company? Well, for starters, founder Danielle Kelli Fleming earned her master of arts in mental health counseling from Marywood University in 2003.
"I started my company when I was at Marywood," Fleming said. "I was very interested in how scents affect our moods and behaviors and my company is a blending of my two passions: the mind and the body. Marywood was great at preparing me in business even though I wasn't in a business program. My program taught me how to connect with people, and that is a very significant contributing factor of my business success."
Another factor to Fleming's success  is her innovative products. Her award-winning organic soap garden contains shea butter soaps and body washes wrapped in handmade paper that is embedded with wildflower seeds. They come packaged in a planter pot with a bag of organic soil. This way, consumers receive not only bath products but also the tools to grow their own garden.
In fact, all of Fleming's products are "eco chic." They are 100% vegan and cruelty-free, and all packaging can be recycling. Plus, they are "completely naked of fillers, preservatives, sulfates, petrochemicals, GMOs, and parabens." This proves a refreshing alternative to the many retail products packed with unpronounceable chemicals.
Fleming's bath and body care line are also unique in their focus on the connection between mind and scent. Fleming, a certified behavioral therapist, has developed over 20 mood-stimulating aromas for women and men. She says, "Whether they want to focus their mind, elevate their mood, relax their body, balance their spirit or become more sensual, customers can achieve mind and body wellness through the use of our products in the simple daily regimen of bathing."
If you're interested in checking out Danielle and Company's products, they are available online at www.danielleandcompany.com and across the globe, including Scranton locations The Crazy Pineapple, Elite Expressions, and Three Little Monkeys Baskets and Gifts. A complete listing of retailers is available on the website.
Also, as of May 1, Danielle and Company will set up headquarters in the Scranton Lace Company's building in Green Ridge. "We are dedicated to the restoration of [this historical landmark], as well as the revitalization of Scranton," Fleming explained in a Danielle and Company newsletter.
Fleming is presently pursuing her Ph.D. in human development with a specialization in instructional leadership at Marywood. Her advice to students hoping to follow her footsteps and hack their way into a self-made business is: "Go for it! It is a great experience and the places it will take you will be absolutely amazing. Plan well, take calculated risks, and have fun. It is a great ride; many ups, some downs, but the ride itself makes it all worth it."