Discover World of Good at Marywood Bookstore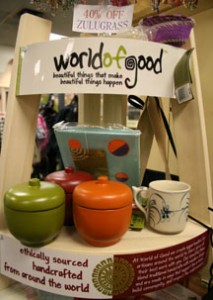 By Ann Williams
Faculty Advisor
By now, you should be familiar with the Marywood Bookstore. You know where to find your textbooks, school supplies, Marywood gear and the ever-popular "Holy Rollers" t-shirt; but did you know that the bookstore carries a series of hand crafted items created by artisans from around the world?
The bookstore has carried World of Good products since 2006 said store manager Erin Ostroski.  "It evolved from our membership in the Fair Labor Association (FLA) whose mission it was to see that none of the garments being sold in our bookstores were being manufactured in sweatshops abroad. After monitoring various factories a list is compiled for the bookstores of vendors who were paying a living wage in the local context and treating their workers with respect in facilities that were a positive environment," added Mrs. Ostroski. The Marywood Bookstore is committed to using only vendors on the list that complied with all the terms of the agreement and were members of the FLA.
The World of Good organization is comprised of World of Good, Inc. and World of Good: Development Organization. Mrs. Ostroski first encountered World of Good products at a trade show for bookstore buyers. She immediately knew the products would be a great addition for the Marywood University community. "It's the perfect fit for our bookstore keeping in mind the Mission of the University, empowering women (70% of the artisans are female), creating employment, protecting the environment, preserving and celebrating cultural diversity and providing fabulous products that give back to the community."
Artisans from over 30 countries handcraft their items for World of Good.  The proceeds  from the sale of these items…over 1-million to date…help to improve the lives of over 6,300 artisans and their families.
Selling the handcrafted items gives us the opportunity to help those artisans in a more tangible way by telling their stories explained Mrs. Ostorski. "We carry bowls made from magazines, purses from soda cans and zippers and jewelry made from shells, glass and beads.  Every piece comes with a hangtag explaining the country of origin, materials used and the group of artisans and how they benefit from the sale of their products."
The World of Good: Development Organization received 10% of the profi ts from the sale of World of Good products in 2007. That money funded grants for nine development projects in seven countries. The grants awarded to Indonesia, Kenya, Cambodia, Thailand, India, Swaziland and Tanzania supported health, education and infrastructure projects.
Next time you stop in the bookstore, make sure to browse the World of Good display. Check out the items mentioned and learn more about the artists through the hangtag on each item.
The bookstore is open Monday to Friday, 8:30 a.m. to 4:30 p.m.; Tuesday, 8:30 a.m. to 6 p.m and Saturday, 11 a.m. to 1 p.m.
Visit World of Good visit www.worldofgood.com for additional information.