Budget Impasse Creates Problems for Students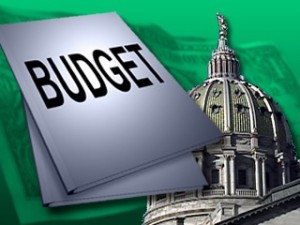 By Lauren Smith
Publicity Director/Lifestyles Editor
When college students headed back to classes this year, they expected a time that is normally met with anticipation and excitement; however, this year was quite different. Due to the state budget impasse, some students started school not knowing how or where they were going to get the money to pay tuition. Financial aid from state agencies like Pennsylvania Higher Education Assistance Agency (PHEAA) would normally help students fill the financial gaps in scholarships, grants, and personal savings, but when the state budget went unsigned on the deadline July 1 2009, students could no longer rely on those funds.
According to the August 21 2009 broadcast of National Public Radio's All Things Considered, on July 1 2009, Pennsylvania joined Connecticut as the only two states that could not agree on a budget. The reasoning for the lack of a budget came from huge deficits created by the unexpected loss in tax revenue from the year prior. What followed was a heated debate about who to blame between Republicans and Democrats, while still not coming to terms with a reasonable budget, while many state agencies and schools suffered the consequences.
As the debate forged on, state and social services still went without government funding and eventually had to tap into reserves they had saved from prior years in order to pay staff and operation costs. But those reserves quickly dried up for some and as a result, they were forced to close. On August 5 2009 though, Governor Rendell signed a "bridge budget" which would distribute funding to state government agencies and Medicaid but not to social services and education. Now, as we've seen locally, social service agencies such as food pantries, homeless shelters, and other non-profits that serve the community are on the brink of disaster, as well as the people they serve. As of the date of this article, it will be 101 days that have passed without a budget and many county and social service employees are still unpaid; leaving many to speculate the delay has much to do with a bill that is waiting to be passed that will allow table games in Pennsylvania casinos and bring in about $200 million in revenue for the state.
Although the "bridge budget" began the flow of funds to state agencies, it neglected educational institutions and happened to be horrible timing for college students. With most colleges and universities in the area starting classes for the 2009-2010 school year in late August/early September, many students were left high and dry when it came to financial aid. According to a statement on the PHEAA website (www.pheaa.org): "Because the State budget has not yet been approved, PHEAA is unable to finalize and disburse State Grants for the 2009-10 academic year."
Followed by this 2009-2010 Commonwealth budget status update:
"Although there have recently been many news reports about a budget agreement, there is currently no finalized budget that has been approved by the Pennsylvania General Assembly or signed by Governor Rendell. Due to the complexity of some of the revenue streams incorporated into this budget proposal, legislative work continues on refining the details. Once a signed budget is in place, we will move forward with finalizing 2009-10 awards for students and you will be notified accordingly."
If you are student and had questions regarding your account and called PHEAA about it recently, you probably would've heard an automated message along the same lines. So what are students doing about it? According to some reports, not much. The people making the most noise right now are the unpaid county workers and other social service agencies that are going without funding. While some Pennsylvania students are going unheard, this is not the case for some Marywood students. Recently a group of Marywood students created the Facebook group "Pennsylvania Students for a State Budget". According to the group's description, "We want to send a message to state legislators that will get their attention and wake them up to the needs of the community. Any ideas to protest and draw attention to this cause are greatly encouraged." Currently, the group is 357 members strong and includes people from all over Pennsylvania and beyond. Some of the actions they have taken so far in fighting the state budget impasse have been helping to promote food drives on campus to benefit local food pantries as well as organizing the collection of students tuition bills and letters to send to the Pennsylvania legislature to demonstrate the need for a state budget and the flow of funds to PHEAA. If you have been negatively affected by the state budget impasse and would like to get involved with "Pennsylvania Students for a State Budget" go to http://www.facebook.com/group.php?gid=138563258306 and become a member. Together we can provide a voice for the unheard, unseen student population struggling to afford an education.