Annual Family Weekend brings more than 250 families to campus
Kendra Rafferty
Staff Writer
Marywood hosted the annual Family Weekend event for students and their families on October 1-3. The event brough together the Marywood community so parents could visit and tour the university while enjoying activities around campus.
This year's Family Weekend, planned by the Student Activities and Leadership Development office, brought 237 families to campus and also added some new events to the schedule.
According to Carl Oliveri, the director of Student Activities and Leadership Development, the event was a three day format incorporating Friday, instead of the usual two day format of just Saturday and Sunday. The new format allowed for more activities being planned for the already packed weekend.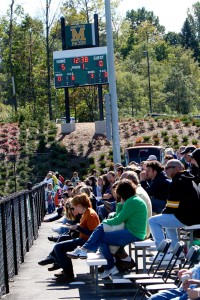 "This year, for example, we added the hypnotist. Last year, we had a dance show at the Performing Arts Center," Oliveri said. As well as the new addition of the hypnotist, traditional activities offered at this year's Family Weekend included the silent auction and basket raffle, fall festival, and casino night.
Oliveri said that Family Weekend 2009 saw the largest attendance in the years that he's been working for Marywood, with approximately 600 visitors on campus. This year's event came close, bringing 237 families—more than 500 guests—to campus to share in the activities.
Through the easy online registration, and the deals with local hotels for parents, Oliveri has simplified the weekend for parents and students alike here at Marywood. "I think the most important part is just having families come and hang out with their students," he said. "Especially for the freshman, it's the first time they've probably seen their parents in a month. It's just kind of a relaxed atmosphere, so that's what we're trying to do, just make it fun." Oliveri said.
Students like Lindsay McCarron, senior elementary education major, have gone to Family Weekend in the past and enjoyed the activities and the time spent with family and friends.
"My parents like to come up and be involved with Marywood's community," McCarron said. "They come up every year except for last year, so my senior year they want to come up and spend time with me and get to see Marywood some more." McCarron said. This year, McCarron and her family went to Nay Aug, went apple picking at Miller's Orchards, and enjoyed the activities available throughout the weekend.
"My family and I went to Mass on Sunday which was nice because we got to spend time together and enjoy experiencing mass with Fr. Brian. We really enjoyed the mass and coming together as a community." McCarron said.