Commentary: NFL Mid-Season Review
As we've reached the midway point in the NFL season, let's take a look at some of the biggest surprises and disappointments, as well as what to expect from the second half of the 2022 season.
Most Surprising Team: The Philadelphia Eagles
The Eagles had high expectations coming into the season. However, nobody predicted Philly would be this good. General Manager Howie Roseman made a plethora of moves, signing cornerback James Bradberry and acquiring safety C.J. Gardner-Johnson from the New Orleans Saints to shore up the secondary, adding linebackers Hasson Reddick and Kyzir White through free agency to bolster the second level and drafting Jordan Davis and Nakobe Dean to strengthen the front seven. This isn't even mentioning the huge offensive splash, bringing in wide receiver A.J. Brown via trade and signing him to a four-year extension. All of these moves were made to make Philadelphia a powerhouse, and oh boy are they. The Eagles look flawless, starting 8-0 through the first nine weeks. Not content with their improved defense, they recently acquired defensive end Robert Quinn from the Bears, as they get ready to continue this amazing run.
Most Disappointing Teams: Green Bay Packers and Tampa Bay Buccaneers
Led by two legendary quarterbacks, both the Packers and Bucs haven't looked like the dominant teams NFL fans have been used to from prior years. While quarterback play hasn't necessarily been the issue, neither soon-to-be Hall of Fame quarterback has looked sharp. For Green Bay, the lack of weapons around Aaron Rodgers has proven to be the Packers' Achilles heel. Relying on a band of unproven youngsters, past-their-prime veterans and mediocre depth players at wide receiver has caused the Packers to stumble to a place unfamiliar during the Matt LaFleur era, after making the playoffs in each of the last three years. As for the Buccaneers, Brady's off-field issues certainly hindered his locker room presence. Mix that with his deficit of offensive weapons and an underperforming offensive line and it has left the Buccaneers tied for first place in one of the worst divisions in the NFL, where they've dominated for the past few years. It's extremely difficult to pick either, so both teams are the most disappointing so far.
Biggest Overachiever: Geno Smith, QB, Seattle Seahawks
During the off-season, the Seahawks sent franchise quarterback Russell Wilson to the Denver Broncos for a band of picks and players, including quarterback Drew Lock. Many, including me, presumed Lock would take over the quarterback duties, with the Seahawks seemingly going into full rebuild mode. Rather, they turned to Geno Smith, their backup of the last two seasons, who hadn't been a consistent starting quarterback since his days as a New York Jet. So, what has Smith done? He's only been the NFL's most accurate quarterback, throwing above a 73% completion rate, while limiting his turnovers to only five over the first half of the year. Seattle has always had good offensive weapons, even before drafting running back Kenneth Walker. Smith has taken these weapons and led the Seahawks to a 6-3 record, tops in the always-difficult NFC West, making him the biggest overachiever thus far.
Biggest Disappointment: Russell Wilson, QB, Denver Broncos
"Broncos Nation, Let's Ride" should be "Broncos Nation, My Career Died." This is the worst Russell Wilson we've ever seen. Though Wilson hasn't been turning the ball over, he hasn't been the superstar quarterback we've gotten used to over the last decade. He's throwing for the worst completion percentage of his career (58.8%), which ranks him nearly in last place. Over the seven games he's played so far, Wilson has only found the end zone six times through the air, while adding one on the ground. Wilson has had more cringe moments with the media and in commercials than memorable plays this year. It's not due to a lack of weapons. Denver has surrounded Wilson with a good, young receiving corps, a decent offensive line and a strong defense, which is the only reason they have been in games all year. Now, am I ruling out that Wilson can turn it around this year? Absolutely not.He has been a premier quarterback in the league for a while. Right now, however, Wilson has been the biggest disappointment.
Mid-Season MVP: Josh Allen, QB, Buffalo Bills
It's a tight race between Allen and Eagles quarterback Jalen Hurts, but I've decided to give the edge to Allen. The early season frontrunner has proven why he was atop the MVP odds board. Allen has thrown for over 2,400 passing yards and 19 touchdowns, while adding nearly 400 yards on the ground, along with four rushing TDs. Josh Allen is Top-5 in almost all major passing statistics, including yards, touchdowns and rating. Allen's MVP-worthy performance has led this Bills team to 6-2 record, the top AFC East team, as well as holding the #1 spot in the AFC.
Mid-Season Offensive Player of the Year: Saquon Barkley, RB, New York Giants
We had no idea what Barkley's season was going to look like. We knew what his skillset held, but the major questions were if he was able to stay healthy and how he would fit into the Giants offense. Well, he has thrown those questions out the window, being one of the NFL's most explosive players. Barkely has carried the Giants offense, tallying 779 yards on the ground, with five touchdowns, while adding nearly 30 catches and 200 yards through the air. His production has again given the Giants' offense a breath of fresh air that was needed after years of offensive struggles.
Mid-Season Defensive Player of the Year: Micah Parsons, LB, Dallas Cowboys
Last year, we could see that Parsons was destined for greatness. The Penn State linebacker joined the Dallas Cowboys, becoming the backbone of a defense that needed a game changer. Parsons has been that and more, moving all over the field last year, eventually taking home Defensive Rookie of the Year honors. Last season, he drew some DPOY conversation, though it ended up going to T.J. Watt. This season, he seems to be the frontrunner. Parsons hasn't skipped a beat from last year, tallying eight sacks, two forced fumbles and a fumble recovery, leading Dallas to a 6-2 record while anchoring one of the NFL's premier defenses.
Mid-Season Offensive Rookie of the Year: Dameon Pierce, RB, Houston Texans
The Houston Texans don't have a lot going for them right now. With a 1-6-1 record, they are in full rebuild mode, focusing on acquiring a top pick in the upcoming NFL Draft. However, running back Dameon Pierce has been the lone bright spot on an otherwise gloomy franchise. Pierce, the fourth-round back from Florida, has been a workhorse, having nearly 170 touches through nine weeks. With those touches, he's tallied 678 rushing yards and three TDs, along with 98 receiving yards and a touchdown through the air. Pierce is, and will be, a vital piece of this rebuilding Texans offense.
Mid-Season Defensive Rookie of the Year: Ahmad "Sauce" Gardner, CB, New York Jets
The man they call "Sauce" has added a new flavor to the Jets defense. Sauce Gardner is undoubtedly one of the best picks from this year's draft. The fourth overall pick from Cincinnati has been a lockdown player for the Jets. New York's defense needed a superstar caliber player. Gardner has been surreal, allowing less than 300 yards over nine weeks, adding 13 passes defended and a pair of interceptions, leading the Jets to a Top-10 passing defense. Quarterbacks are already fearing throwing his way, making him a staple of what could potentially be one of the scariest defenses in the NFL for years to come.
Contact the writer: [email protected]
About the Contributor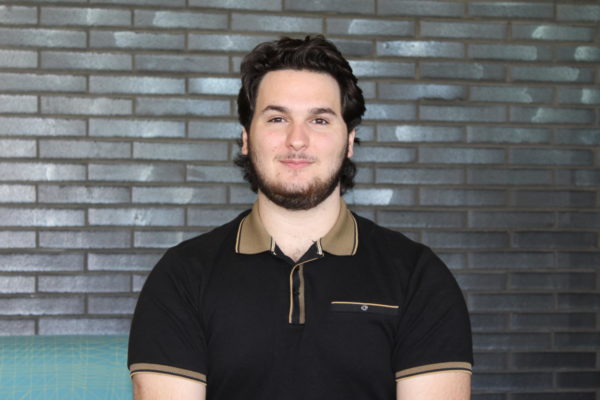 Vincent Goldschmidt, Sports Editor
Vincent Goldschmidt is a sophomore Multimedia Communications Major, on the track of Sports Media, and is the Sports Editor for the Wood Word. Along with...