Commentary: Who is Super Bowl Bound?
Now that the Divisional Round is over, only four teams remain. Which teams will beat their opponents in the AFC and NFC Championships this Sunday to be one step closer to becoming Super Bowl Champions?
NFC Championship: #2 San Francisco 49ers (13-4) @ #1 Philadelphia Eagles (14-3)- 3:00 P.M. on FOX
The NFC Championship is a battle between the top seeded teams in the conference. San Francisco is coming off a pair of victories, first blowing out their division opponent Seattle Seahawks before outlasting the Dallas Cowboys last week. San Francisco is one the NFL's most well-rounded teams. The Niners possess both a Top-5 offense and defense. San Francisco has gone through some adversity this season, losing both quarterbacks Trey Lance and Jimmy Garapollo to devastating injuries, leaving third-stringer Brock Purdy in control of this juggernaut offense. Purdy has been stellar since taking over, staying undefeated through every game he's played. Purdy threw for over 1,300 yards in the regular season, while throwing at least two touchdowns in each game. Purdy followed up his regular season with a sensational performance against the Seahawks. Though Purdy didn't put together as great of a performance last week against the Cowboys, he managed to keep San Francisco in the game.
Alongside Purdy on this offense, the Niners have a host of weapons at their disposal. The Niners possess not one, but two Swiss Army Knife players in Christian McCaffrey and Deebo Samuel. Like Purdy, neither had a great game versus Dallas, but both are threats to go for over 100 yards through the air or on the ground. San Francisco also has wide receiver Brandon Aiyuk and tight end George Kittle, making the passing game all the more threatening. Kittle scored seven of his 11 touchdowns this year on passes from Purdy. While he has yet to find the endzone in the playoffs, it wouldn't be surprising to see him score a couple of times this week. Aiyuk quietly put together a 1,000-yard season, which is all the more impressive seeing who else this offense can target. As dominant as the offense is, the defense is just as scary. The defense allowed the least amount of yards per game, while also collecting 30 turnovers, tied for second best in the league. The San Francisco defense is headlined by NFL Defensive Player of the Year frontrunner Nick Bosa, who led the NFL in sacks with 18.5. The defense continued its dominance in the postseason, limiting opponents to just over 300 total yards while forcing four turnovers.
Their opponents, the Philadelphia Eagles, were just as dominant on both sides of the ball, possessing both a Top-5 offense and defense as well. Philadelphia had one of the most dynamic offenses in football with quarterback Jalen Hurts a primary focal point. Before the season, some observers speculated whether or not Hurts could take another step forward. He did exactly that, putting together a MVP-caliber season, throwing for 3,701 yards and 22 touchdowns, while rushing for 760 yards and 13 touchdowns.
Hurts missed two games this year, due to a right shoulder injury. Hurts' first game back, the final regular season game, wasn't up to his standards, leading to many being worried about how he'd perform in the playoffs. Hurts put together a solid performance against the New York Giants, being responsible for three of Philadelphia's touchdowns. Running Back Miles Sanders has the ability to take some pressure off Hurts. Sanders had a career year this season, rushing for 1,269 yards in the regular season, to go along with 11 touchdowns. Sanders had 90 rush yards in the win against the Giants.In the passing game, Hurts has a trifecta of reliable options to target. Wide receivers A.J. Brown and DeVonta Smith, along with tight end Dallas Goedert is one of the NFL's scariest pass catching trios. Brown, whom Philadelphia traded for on draft day last year, set the Eagles single-season receiving record, tallying just under 1,500 yards, while also setting a career high. Smith, the second-year receiver, still thrived as the second option in the pass catching game, finishing just a few yards shy of 1,200. Goedert was on his way to a career year if it weren't for an injury sidelining him for five games,
The trio put together 14 catches, 141 yards and two touchdowns in the Divisional Round. All of this offensive output is largely in part to the unsung heroes of most teams, the offensive line, which was graded as the NFL's best this season. On the other side of the ball, the defense was lethal, finishing second in fewest yards allowed and tied for seventh in points allowed. The pass defense was the NFL's best, allowing the fewest yards (179.8/game), tallying the most sacks (70), and finishing tied for third in most interceptions (17). Philadelphia had four players (defensive ends Brandon Graham and Josh Sweat, defensive tackle Javon Hargrave, and linebacker Hasson Reddick) with 10+ sacks this year, which set an NFL record. In the Divisional Round, the defense had five sacks and an interception, while limiting the Giants to 227 total yards.
Although I do love the Brock Purdy narrative, and can't wait to see what he can do in the future, I don't believe his undefeated streak remains alive. I believe Philadelphia will return to their second Super Bowl in six years, by beating the San Francisco 49ers 24-20.
AFC Championship: #3 Cincinnati Bengals (12-4) @ #1 Kansas City Chiefs (14-3)- 6:30 P.M. on CBS
A rematch from last year's AFC Championship is upon us, when the AFC North Champion Cincinnati Bengals return to Arrowhead Stadium to face the AFC West Champion Kansas City Chiefs. The Bengals fell just short of a Super Bowl victory last year, losing to the Los Angeles Rams 23-20. The Bengals are led by Joe Burrow, the former Heisman winner and College National Champion, who was the first overall pick from LSU in the 2020 draft. Burrow had another MVP-caliber season, throwing for 4,475 yards and 35 touchdowns, while adding five scores on the ground. "Joe Shiesty" has been one of the NFL's best playoff performers since joining the league, with the only loss being against the Rams in Super Bowl LVI. Burrow is also the only quarterback to be undefeated against the Chiefs, since their reign of dominance began. Burrow is 3-0 versus the Chiefs, while throwing for 982 yards and eight touchdowns. He's had a pair of good games throwing for 451 yards and three touchdowns, while adding 40 yards and a touchdown on the ground.
Burrow had been able to find success thanks to the stellar weapons around him. Out of the backfield, running back Joe Mixonput together 1,255 yards from scrimmage and nine total touchdowns this season, despite missing a few games with a concussion. Mixon had a quiet game against the Ravens in the Wild Card round, before exploding for 105 rushing yards and a touchdown in the Divisional Round.
In the passing game, the Bengals possess potentially the best wide receiver tandem in football. Ja'Marr Chase, Tee Higgins and Tyler Boyd have made Burrow's job significantly easier. Chase, Burrow's teammate at LSU, has been the quarterback's favorite target for the past two seasons. Chase missed five games this season due to a hip injury, yet still managed to produce over 1,000 receiving yards and nine touchdowns. Higgins, who was drafted a round after Burrow, tallied 1,029 yards through the air, finding the endzone seven times. Boyd, who's in his seventh season as a Bengal, has still managed to thrive as the third option, scoring five times and totaling 762 yards this year. The trio has registered 259 yards and a pair of touchdowns in the postseason.
Cincinnati's defense has been solid. Though they aren't dominant, they play well enough to allow the Bengals to stay competitive in games. However, in the playoffs, they've limited opponents to just 13.5 point per game over the two games, while forcing three turnovers.
As for the hosts of the game, many speculated the Chiefs would regress as a team, after trading superstar wide receiver Tyreek Hill to the Miami Dolphins. Quarterback Patrick Mahomes was expected to see his numbers tumble due to the loss of one of his favorite targets. Instead, Mahomes fell just 227 passing yards short of breaking Peyton Manning's 5,477 passing yards record for a single season. Along with Mahomes' 5,000+ yards, he threw 41 passing touchdowns, the NFL's best this season, while adding four more on the ground.
There is concern about Mahomes after his ankle injury against the Jaguars. However, the weapons around Mahomes will help him compensate for the injury. Rookie Isiah Pacheco has taken over the role as lead running back for Kansas City, tallying just under 1,000 yards from scrimmage and five touchdowns in the regular season, before recording just over 100 yards last weekend. As for Mahomes' passing weapons, there's the always-reliable Travis Kelce, who put up a career high in touchdowns (12), while adding 1,338 yards on 110 receptions. Wide receiver JuJu Smith-Schuster was a nice addition to the offense, having a resurgent year after missing 12 games last season due to injury. Smith-Schuster tallied 933 yards and three touchdowns. Running back Jerick McKinnon was primarily used in the pass catching game, collecting 512 receiving yards and nine scores. Kelce had a sensational game in the Divisional Round, catching 14 passes, tallying 98 yards, and finding the endzone twice. Smith-Schuster and McKinnon had quiet games, but I wouldn't be surprised if they both put together quality games this week. Similarly to Cincinnati, the Chiefs' defense was good enough to keep the offense in games. Kansas City did hold a high-powered Jaguars offense to 20 points, while forcing two turnovers late in the game.
The Chiefs have ignored the critics all season, who now favor the Bengals due to the injury to Mahomes. Usually, the critics are wrong. However, this time I will agree, and Burrow will remain undefeated against the Chiefs, clinching their second straight Super Bowl berth, by a final score of 34-28.
Contact the writer: [email protected]
About the Contributor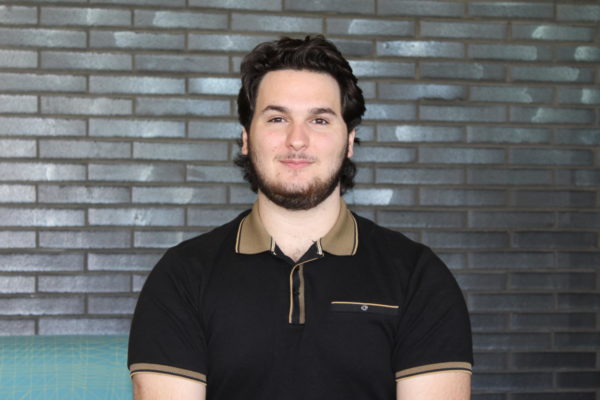 Vincent Goldschmidt, Sports Editor
Vincent Goldschmidt is a sophomore Multimedia Communications Major, on the track of Sports Media, and is the Sports Editor for the Wood Word. Along with...