Commentary: Who will be crowned as Super Bowl Champion?
It is officially Super Bowl Weekend. We've seen one of the most bizarre NFL seasons, with a variety of different storylines. The Super Bowl itself has a few storylines that will keep fans on the edge of their seats. Whether it's the Kelce Bowl, with brothers Travis and Jason being the first siblings to play against each other, to Andy Reid coaching against his former team, which he led to the Super Bowl in 2005. It's time to crown the next Super Bowl champion.
Super Bowl LVII: Kansas City Chiefs (14-3) vs. Philadelphia Eagles (14-3)- Feb. 12, 6:30 p.m. on FOX
Kansas City Chiefs
There is no surprise the Chiefs are here. Kansas City has been in each of the last four AFC Championships, representing the AFC in the Super Bowl three times. The Chiefs have quickly become the NFL's best dynasty over the last half decade. Head coach Andy Reid has implemented one of the NFL's premier offensive schemes. Schemes can only take you so far, though. Having a quarterback like Patrick Mahomes makes a coach's job significantly easier. Mahomes, the 10th overall pick in 2017, has already put together a Hall of Fame career over his six league seasons. Mahomes has nearly broken single-season passing records, won individual awards, such as making two All-Pro First Teams, 2018 AP Offensive Player of the Year and AP MVP and has won a Super Bowl and Super Bowl MVP.
Mahomes is on the verge of winning his second MVP and second Super Bowl. Mahomes put together potentially his best year. Many people, including me, thought Mahomes would regress following superstar wide receiver Tyreek Hill being dealt to the Miami Dolphins. Mahomes instead responded by throwing 41 touchdowns on a 67.1 completion percentage, the best of his career. If that wasn't good enough, he finished only 227 passing yards away from the single-season passing yards record, set by Hall of Famer Peyton Manning, while also adding his second AP MVP to his resume. A big part of Mahomes' success comes from having the best tight end in the NFL, Travis Kelce.
Kelce, drafted in 2013, has put together seven consecutive seasons of over 1,000 receiving yards. At age 33, he put together the best year of his career, setting career highs in receptions (110), targets (152) and touchdowns (12), while falling just short of his career high in yards, tallying "only" 1,336 yards. With no surprise, Kelce led all tight ends in these categories. The resurgence of JuJu Smith-Schuster also greatly benefitted the Chiefs air game. Smith-Schuster had an injury-riddled season in 2021, leading to him signing a one-year prove-it deal with the Chiefs. Smith-Schuster was able to stay on the field for most of the year, putting together a solid 78-reception, 933-yard season, adding a trio of touchdowns throughout the year. Running back Jerick McKinnon had a career best year through the air. McKinnon tallied 512 receiving yards on 56 receptions, finding the end zone nine times through the air. McKinnon added just under 300 yards and another score on the ground. Rookie running back Isiah Pacheco took over the rushing duties for the Chiefs. Pacheco, who was drafted 251st overall in 2022, took over the lead back role in Week 10, finishing his first year with a respectable 830 rushing yards and five touchdowns. The offensive success can also be attributed to the Chiefs offensive line, which ranked fourth according to Pro Football Focus. The Chiefs finished first in both yards per game and points per game.
Kansas City's defense was a solid unit. Though they weren't as exciting as other defenses in the league, they kept the Chiefs in nearly every game this year, allowing the offense to win. Defensive tackle Chris Jones finished the year with 15.5 sacks, tied for fourth in the NFL, becoming an AP Defensive Player of the Year finalist and earning a spot on the All-Pro First Team. Second-year linebacker Nick Bolton made a significant jump from year one, finishing second in the NFL in total tackles with 180, while tallying his first couple of sacks and interceptions while forcing his first fumble. Cornerback L'Jarius Snead had a career year, setting new highs in passes defended (11), sacks (3.5) and tackles (108), while hauling in three interceptions.
Philadelphia Eagles
Many observers expected the Eagles to improve over last year. In 2021, Philadelphia, led by first-year coach Nick Sirianni, went 9-8, earning a Wild Card spot before getting swiftly eliminated by the Tampa Bay Buccaneers. General Manager Howie Roseman had one of the best off-seasons in recent memory, addressing every need on his roster. Sirianni, with the new and improved roster, led the Eagles to a franchise-record 14 victories.
Siranni's success as a head coach can be largely attributed to the continued improvement of quarterback Jalen Hurts. Hurts, drafted in the second round in 2020 out of the University of Oklahoma, was originally considered a gimmick player as Carson Wentz was still the starter. Hurts went into last season as the starting quarterback with some skepticism. Hurts was successful, earning the starting role again this year, but still faced some question marks about his play. Hurts answered those questions by putting together a 2022 season in which he threw for 3,701 yards and 22 touchdowns, while becoming one of the best, if not the best running quarterback this season, rushing for 760 yards and 13 touchdowns.
That earned him an All-Pro Second Team Nomination and he finished in second place in MVP voting. His performance is even more impressive when you realize he put up these numbers while missing a pair of games with a shoulder injury. Hurts had a good deal of help with his great showing, from both his offensive weapons and line that ranked first according to Pro Football Focus and even found time to release a Christmas album, A Philly Special Christmas, that raised $250,000 for charity.
One of those weapons is running back Miles Sanders, who had a career best season, oftentimes the case for most players going into a contract year. Sanders put together a campaign of 1,269 rushing yards and 10 rushing touchdowns, being the workhorse back with 259 rushes, the eighth most attempts in the NFL.
As for the passing game, the Eagles had a Top-10 duo of second-year receiver DeVonta Smith and offseason trade acquisition A.J. Brown. Smith, the Eagles first-round pick from last year, made a jump in all major receiving categories, despite being the second option in the passing game. Similarly, Brown had a career year in all major categories after leaving the run-heavy offense in the Tennessee Titans.
Brown and Smith combined for 183 receptions, 2,692 yards and 18 touchdowns. They became the first Eagles receiving duo in history to both record 1,000-plus yards in a single season, with Brown breaking Mike Quick's 1983 single-season receiving record. Tight end Dallas Goedert could've easily joined the group, if it weren't for a five-game absence, due to injury. Goedert managed 701 yards and three touchdowns, on 55 receptions. The multitude of ways Philadelphia could score led to them finishing with a Top-3 offense.
Nobody expected the Philadelphia defense to be as dominant as it was. They were a Top-3 defense with a record-setting season. Philadelphia became the first team in NFL history to have four players with 10-plus sacks.
Linebacker Haason Reddick, another one of Roseman's key acquisitions, finished tied for second in sacks with 16. Defensive lineman Josh Sweat, Javon Hargrave and Brandon Graham all finished the season with 11 sacks each. As a team, Philadelphia led the NFL in sacks, tallying 70 as a unit, 15 more than the next nearest team.
As for the secondary, they were the best unit in the NFL, allowing the least amount of passing yards per game in the NFL. Offseason acquisitions C.J. Gardner-Johnson and James Bradberry were largely responsible for the dominance. Gardner-Johnson finished the season tied for the most interceptions in the NFL, despite missing five games with an injury. Bradberry finished third in passes defended at 17, along with three interceptions.
Two of the most high-powered offenses in the NFL square off in the biggest game of the year. However, I think the defense will be the X-factor. The Eagles defense will pull out some key stops and I believe Philadelphia will win Super Bowl LVII, 34-28.
Contact the writer: [email protected]
About the Contributor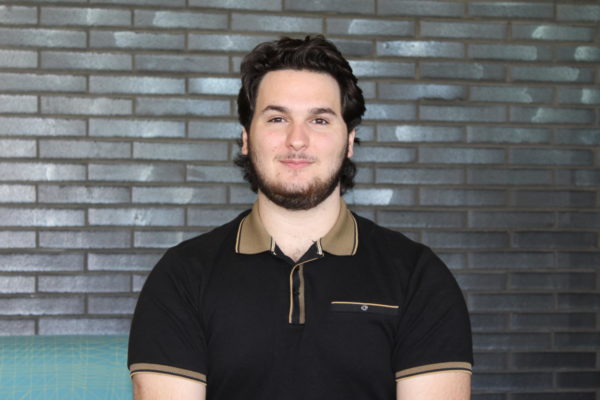 Vincent Goldschmidt, Sports Editor
Vincent Goldschmidt is a sophomore Multimedia Communications Major, on the track of Sports Media, and is the Sports Editor for the Wood Word. Along with...