2023 NFL Mock Draft
1. Carolina Panthers: Bryce Young, Quarterback, Alabama
When Carolina moved up from the ninth pick, it was evident that they would be selecting a quarterback. Following the trade, Carolina added to the offense in free agency, bringing in wide receivers Adam Theilan and DJ Chark and running back Miles Sanders.
After the NFL Combine, Ohio State quarterback C.J. Stroud seemed to be the consensus number one pick by many, including the Bleacher Report Scouting Department. However over more recent weeks, Young has regained the lead as the projected first pick.
Young was electric over his two seasons as the signal caller for the Crimson Tide, throwing for over 8,200 yards and 79 touchdowns. Young's NFL player comparison is future NFL Hall of Fame quarterback Drew Brees. The only major concern is his stature, at 5'10" and only weighing 204 pounds. Despite the concern about height, Panthers' head coach Frank Reich will be presented with the highest-ranked QB from this year's combine.
2. Houston Texans: Tyree Wilson, Defensive End, Texas Tech
All throughout the draft process, when Stroud was the projected No. 1 pick, it seemed that the Texans were more than content with drafting Young. Once Carolina's change in heart occurred, Houston changed its view.
Reports surfaced saying that the Texans wouldn't select a quarterback with their top pick. Rather, they'd go with a defensive option. Despite defensive end Will Anderson Jr. being ranked higher, it is believed that Houston prefers Texas Tech's Tyree Wilson, due to him supposedly fitting the scheme and his build being similar to Nick Bosa, a player who thrived in DeMeco Ryans' defense.
Wilson collected 17 sacks through his four collegiate seasons at Texas A&M and Texas Tech. He has drawn comparisons to Ezekiel Ansah, due to game-wrecking abilities and similar frames. Ryans, who won AP Defensive Rookie of the Year in 2006, will have a chance to mold Wilson into a DROY of his own in his first season as a head coach.
3. Arizona Cardinals: Will Anderson Jr., Defensive End, Alabama
Arizona is more than one piece away from contending, with them most likely sitting in a similar situation next season due to the time quarterback Kyler Murray will be missing recovering from injury.
With new head coach Jonathan Gannon having a defensive pedigree, it is speculated that Arizona will attempt to reshape its defense. It just so happens the best edge rusher in the draft will fall into their lap.
Anderson Jr. is a menace on the edge, collecting 34.5 sacks over three seasons as a starter in Tuscaloosa. He's the consensus top edge rusher on big boards and Gannon is going to have the anchor of his defense for years to come.
4. Indianapolis Colts: Will Levis, Quarterback, Kentucky
Since Andrew Luck retired in 2019, Indianapolis has had a revolving door of quarterbacks. Though a few seasons have yielded positive results, it's become obvious they need to find their guy.
Indianapolis has the power to go whichever direction they please. They could go with the most polished prospect remaining in C.J. Stroud or take a chance on a dynamic athlete like Anthony Richardson, who would fit perfectly into first year head coach Shane Steichen's offense, as he boasts similar traits to Jalen Hurts.
Instead, they'll go with Will Levis. Levis possesses the ideal build of a NFL quarterback, along with his outlandish arm talent. A major concern is his lack of college success, as he tossed 23 interceptions over his two years as a starter. With the help of a talented offensive line, a premier running back, a few receiving weapons and Steichen, Levis will be in a solid situation to start his career.
5. Seattle Seahawks: Jalen Carter, Defensive Tackle, Georgia
Seattle holds a pair of first round selections and hopes to rebuild a lackluster 2022 defense. The team was massacred on the ground last season, ranking in the bottom fifth in run defense. There is no better prospect available for the Seahawks than Georgia's Jalen Carter.
Carter is graded as the top defensive prospect in all of this year's draft class. He is going to force defenses to double team him nearly every play. His stock took a hit due to off the field issues, but despite that, Carter is a can't-miss prospect that too many teams will pass on, gifting him to the Seahawks.
6. Detroit Lions: Christian Gonzalez, Cornerback, Oregon
The Detroit Lions had a resurgence last year, finishing 9-8 and just shy of a playoff berth. Despite the success, the Lions' pass defense was terrible, ranking towards the bottom in the league in most categories.
Luckily for Detroit, they have the Rams' first round selection this year, placing them in the sixth slot. With a pair of star caliber defensive backs in this year's class, Detroit gets first dibs at whomever they rank higher: Devon Witherspoon or Christian Gonzalez.
Detroit will opt for Gonzalez, who graded higher and is a little bit bigger and longer than Witherspoon. Gonzalez racked out four interceptions and seven passes defended as a crucial part of the 10-3 Oregon Ducks. He will be the lockdown cornerback that the Lions' secondary has been craving.
7. Oakland Raiders: Devon Witherspoon, Cornerback, Illinois
Entering the off-season, it seemed that Oakland would draft a quarterback due to the likely departure of veteran Derek Carr. Instead, they brought in Jimmy Garoppolo on a three-year deal, yet rumors still swirled about the Raiders taking a quarterback.
The rumors have since died down and Oakland seems more primed to address one of its other needs. The Raiders' defense was abysmal, so defense seems to be the proper pick here, more specifically their cellar-dwelling pass defense.
Witherspoon appears to be the obvious choice, with Gonzalez being off the board. He tallied a trio of picks and defended 14 passes last season, and it wouldn't be surprising if his college success translates to the pro level.
8. Tennessee Titans (trade with Atlanta): C.J. Stroud, Quarterback, Ohio State
Our first trade of the draft will occur when Stroud begins slipping. The trade package Tennessee sends could include Ryan Tannehill, giving Atlanta a slightly more viable option at quarterback this year instead of Desmond Ridder and Taylor Heinicke.
The Titans could get their guy that they've needed to take the helm of the Titans offense. Stroud seemed to be the top guy throughout the entirety of the draft process. Now, he's slipping and Tennessee will swoop in.
Stroud was arguably the best quarterback in college football over the two seasons he led the Buckeyes' offense. He has proven time and time again that he can perform against any defense. Stroud isn't afraid of the big moment, as he's been a domineering force in both bowl games he's played in.
9. Chicago Bears: Peter Skoronski, Offensive Tackle, Northwestern
During Justin Fields' tenure as a Bear, he's had to run for his life, as his offensive line has been as sturdy as a wet napkin. Though Fields' ability to scramble and extend plays is what makes him such a special talent, he shouldn't have to do so every play.
Luckily for Chicago, this is a deep draft for offensive line. Fields could possibly have some pull in the Bears' decision, leading to the selection of fellow Ohio State alumni Paris Johnson Jr. However, Peter Skoronski seems to be the better prospect and the way Chicago will go.
Some NFL executives see Skoronski as more of an interior lineman, despite him guarding the blindside throughout his collegiate career. Chicago has the luxury of playing Skoronski wherever they'd like, but with the necessity at left tackle, that is most likely where he'll be slotted.
10. Philadelphia Eagles: Nolan Smith, Defensive End, Georgia
What a luxury to appear in the Super Bowl and have a Top-10 selection. Philadelphia's defense was gutted in the offseason, with a variety of players leaving in free agency.
There are a variety of edge rushers projected to go around the mid-first round. Whether it be Lukas Van Ness, Myles Murphy or Nolan Smith, it seems like a primary need for Philadelphia this year.
Philadelphia will take Smith with the tenth selection. He ran the fastest 40-yard dash time at the combine, clocking in at 4.39 His collegiate connection with a pair of the Eagles' selections last year, Nakobe Dean and Jordan Davis, gives him a few more brownie points. Georgia has had one of the most dominant defenses in college football recently and Philadelphia is looking to reunite a handful of Bulldogs.
11. Atlanta Falcons (trade with Tennessee): Bijan Robinson, Running Back, Texas
Over the past two drafts, Atlanta has taken two of the most talented prospects in their class, choosing tight end Kyle Pitts and wide receiver Drake London. History could repeat itself this year, as they try to build up their offensive corps.
Who better than the highest graded offensive prospects in this class?
Bijan Robinson was the best running back in college football, finishing his season with just under 1,600 rush yards and 15 touchdowns, drawing a handful of Heisman votes. Robinson, London and Pitts could be a Top-10 offensive weapons trio in the NFL.
12. Houston Texans: Jaxon Smith-Njigba, Wide Receiver, Ohio State
Houston has another first round pick thanks to the Deshaun Watson trade. Though the Texans are avoiding spending an early selection of a quarterback, it is very possible that Houston addresses its offensive needs.
The Texans will augment their receiving corps, which arguably is the worst in the league. Houston has every receiving prospect at its disposal.
Smith-Njigba only played in three games this season, yet you know the upside he possesses. In the 2021 season, he racked up 95 catches, 1,606 yards and nine touchdowns. If Smith-Njigba is able to stay on the field, he will be a future threat in the league.
13. Green Bay Packers: Lukas Van Ness, Defensive End, Iowa
With the recent Aaron Rodgers trade, the Packers jumped to the 13th selection in the draft. It's very possible they will select a receiving weapon in the first round, something they never did in Rodgers' tenure as Packer. It would make more sense for them to target a potential receiver who falls out of the first round.
Rather, Green Bay will address its defensive needs, primarily needing a pass rusher.
Van Ness will be the pick here. He is a long, athletic edge rusher, who is explosive and has the ideal build of a defensive end. With polishing, Van Ness can be the wrecking ball that the Packers' pass rush desperately needs.
14. New England Patriots: Deonte Banks, Cornerback, Maryland
The Patriots have a variety of ways they could target the draft this season. Needing players on the offensive line, in the secondary and in their receiver room, the possibilities are endless.
With lifelong Patriot Devin McCourty retiring, the secondary seems to be the priority need for the Patriots.
Deonte Banks appears to be the right fit for the Patriots defense. Banks graded as the top defensive back in athleticism at the NFL combine. He has the speed and size to stick with top receivers in the NFL, which is crucial playing in an AFC East division that holds top receivers like Stefon Diggs and Tyreek Hill.
15. New York Jets: Paris Johnson Jr., Offensive Tackle, Ohio State
The Jets moved back from their original selection at the 13th pick during the Aaron Rodgers' trade. The main need from the draft has stayed the same. Especially now with Rodgers, they have to draft offensive line.
Rumors are circulating that former 1st round pick Mekhi Becton is being moved from left to right tackle. For left tackle, it's a toss up between Paris Johnson Jr. and Broderick Jones.
Johnson Jr. seems to be the pick, as he has a slightly bigger frame and moves better than Jones. Johnson Jr. goes from protecting one of college's best quarterbacks to one of the NFL's greatest quarterbacks of all time.
16. Washington Commanders: Joey Porter Jr., Cornerback, Penn State
While it wouldn't be the craziest idea for Washington to go quarterback, I don't believe they'll take Richardson. They've been rumored to be waiting to attempt to get Caleb Williams in next year's draft, so the plan seems to be to let 2022 fifth round selection Sam Howell take snaps under center.
They are in need of secondary reinforcements, primarily at cornerback. Apart from Kendall Fuller, the Commanders' corners rank low according to Pro Football Reference. With Gonzalez, Witherspoon and Banks gone, Porter Jr. seems to be the best bet.
Son of Super Bowl champion Joey Porter, Porter Jr. has developed into a physical corner, who has the speed, size and strength to succeed at the professional level. Slotting him across the field from Fuller will do wonders for the Commanders defense.
17. Pittsburgh Steelers: Broderick Jones, Offensive Tackle, Georgia
Somehow despite the projected down year, Mike Tomlin led Pittsburgh to another winning season, just missing the playoffs. Though it was a winning campaign, it wasn't necessarily a good one.. The hope for the upcoming season is for second-year QB Kenny Pickett to take a big step forward.
Over the past few seasons, the offensive line has trended in the wrong direction. This year is the year for the trend to flip.
Enter Broderick Jones, who is a bully on the blindside. Despite only playing one full season at Georgia, he played a pivotal role in keeping quarterback Stetson Bennett upright en route to their second consecutive National Championship. Jones will be the man to keep Pickett safe in 2023.
18. Detroit Lions: Michael Mayer, Tight End, Notre Dame
While this could be a draft in which Detroit goes defense-heavy, and they probably will, their second first-round selection should boost the offense. Last year when Detroit started off slowly, they traded tight end T.J. Hockenson for nearly nothing.
Now is the time to replace the hole Hockenson left. Quarterback Jared Goff needs more pass catching weapons, especially with second-year receiver Jameson Williams catching a suspension. Detroit needs a game changer like Michael Mayer.
Mayer was the primary option on an otherwise lackluster receiving corps for Notre Dame, setting a handful of records for tight ends during his tenure. He has a great build to get 50/50 balls at the NFL level. If he performs similarly to his pro player comparison, Jason Witten, Detroit will be ecstatic with its selection.
19. Tampa Bay Buccaneers: Myles Murphy, Defensive End, Clemson
This season seems to be one in which Tampa Bay won't be successful. While it seems like New Orleans, Atlanta and Carolina are attempting to trend upward, Tampa Bay is heading the other way. Obviously losing Tom Brady is a major blow, but it seems like Tampa Bay is quietly trying to get head coach Todd Bowles out the door.
Quarterback may be unlikely, with the Buccaneers probably trying to get one of the next year's prospects. However, they are in desperate need of an edge rusher, and luckily for them Myles Murphy is still on the board.
Murphy has all the size and skill needed to be successful in the NFL. Pairing him with Lavonte David, Shaquil Barrett and Devin White, barring them agreeing to trade White, Murphy will enter the league as an absolute game changer for the Tampa Bay defense.
20. Minnesota Vikings (trade with Seattle): Anthony Richardson, Quarterback, Florida
It's finally time for Richardson to get selected. Minnesota will trade up, knowing that this is the final season of quarterback Kirk Cousins contract. The Vikings will probably package a Day 3 selection for this year's draft, if not multiple picks.
Many teams have been skeptical of Richardson. Despite the insane athleticism that he possesses, the lack of collegiate experience is a primary factor why he's fallen so far.
The positive is he'll get to sit behind one of the most quietly consistent quarterbacks in the NFL and potentially pick up some wisdom and maybe a little bit of game experience. While it is obvious that Richardson needs to have his skills developed to be successful at the NFL, Minnesota is getting an absolute steal at pick 20.
21. Los Angeles Chargers: Zay Flowers, Wide Receiver, Boston College
The Chargers had a good but not great season last year. Some believed that they could possibly dethrone the Chiefs in the AFC West. Injuries to receivers Keenan Allen and Mike Williams derailed that possibility, leading to a Wild Card berth.
Los Angeles does have Allen and Williams under contract for two more seasons. However, it would benefit quarterback Justin Herbert to have another weapon to target, noting that Austin Ekeler requested a trade. Ekeler has served as a three-down player, being one of the NFL's premier pass catching backs.
Zay Flowers would fit this offense perfectly, whether Ekeler remains a Charger or not. Flowers can help open up the field even more, making Herbert's life significantly easier. Having a trio of Allen, Williams and Flowers could be the key to potentially hoisting the AFC West title.
22. Baltimore Ravens: Keion White, Defensive End, Georgia Tech
Baltimore is doing everything to persuade quarterback Lamar Jackson to remain with the organization. While it wouldn't be a shock to see Baltimore draft a wide receiver, it won't happen in the first round.
Adding a defensive end would benefit the Ravens' front seven tremendously. The Ravens will steal a diamond in the rough in Keion White.
Though they don't play the same position, Jackson and White share similarities during their time as prospects: They are both players who have a skillset that just needs time to develop. White has tremendous size and speed to be a force in the Ravens defense.
23. Seattle Seahawks (trade with Minnesota): B.J. Ojulari, Defensive End, LSU
After moving back, Seattle was hoping to land an edge rusher to pair alongside their prior pick, Jalen Carter. Unfortunately, White was selected, forcing Seattle to move to their next option.
That option is B.J. Ojulari, who might seem like a reach at this position in the draft. The younger brother of Giants' edge rusher, Azeez, Ojulari is a force off the edge. He needs to become more consistent throughout the season. If he is able to find consistency, Ojulari and Carter could be the game destroyers that the Seahawks have desperately needed.
24. Jacksonville Jaguars: Emmanuel Forbes, Cornerback, Mississippi State
The Jaguars took a step in the right direction, winning the AFC South, before knocking off the Chargers and nearly taking down the eventual Super Bowl Champion Chiefs. Though they progressed, Jacksonville's secondary was nonexistent.
Luckily for the Jaguars, this draft is deep in secondary options and that's the direction the team will go.
Emmanuel Forbes has been a ballhawk since joining Mississippi State, collecting nearly as many awards as interceptions during his collegiate career. Forbes will get the opportunity on day one to right the ship that is the Jacksonville secondary.
25. New York Giants: Quentin Johnston, Wide Receiver, TCU
Brian Daboll's head coaching career started off well, leading the Giants to a Wild Card spot and a first-round victory. Following the season, the Giants locked up quarterback Daniel Jones, after his breakout year.
Though Jones had his best season of his career, there's still much room for improvement. He doesn't really have any legitimate weapons to pass to apart from newly-acquired tight end Darren Waller.
Quentin Johnston is a perfect fit for the New York offense. He showed off his plus height and speed during TCU's unlikely National Championship run. If Daboll can help Johnston develop the way he did Jones, the Giants offense can be tremendously scary to play against.
26. Dallas Cowboys: Calijah Kancey, Defensive Tackle, Pittsburgh
Since the emergence of Micah Parson, Dallas' defense has dominated. Their only weakness last year was defending the run game.
Most years, the Cowboys' front office will go with the best available option, rather than focus on team needs. Though he may not be the name circled on top of their draft board, Calijah Kancey is the obvious choice.
Kancey is somewhat undersized, yet that didn't slow him down at the collegiate level. He explodes through the gaps in the line, getting to both quarterbacks and running backs with ease. Offenses who will have to game plan for both Kancey and Parsons are going to be having nightmares.
27. Buffalo Bills: O'Cyrus Torrence, Offensive Guard, Florida
Buffalo has been a dominant force in the AFC over the past few seasons. Their success is largely because of Josh Allen becoming one of the league's top quarterbacks. A way for him to continue to have success is keeping him upright.
More specifically, the Billsneed help on the interior part of the offensive line. Luckily for Buffalo, O'Cyrus Torrence has fallen to their pick.
Torrence has been an authoritative force over his career as a Gator. He played nearly three full seasons in Florida and never allowed a sack. Torrence's bullish playstyle is exactly what the Bills' protection scheme needs.
28. Cincinnati Bengals: Dalton Kincaid, Tight End, Utah
Surrounding Joe Burrow with star-caliber receiving weapons has proven successful for the Bengals. Though Cincinnati will draft offensive line during the draft, they'll opt for a pass catcher with their first pick.
Dalton Kincaid will fill the void left by Hayden Hurst, who served as the fourth option in the offense. Kincaid has the skill set to become the third option in the offense at minimum. The only true flaw he shows is his blocking ability, which should improve over time. If Kincaid can translate his college success to the Bengals' offense, Cincinnati might be able to get over the hump and bring home the Lombardi Trophy.
29. New Orleans Saints: Mazi Smith, Defensive Tackle, Michigan
The Saints window to take home the NFC South is now, with the Panthers most likely needing another year to become a legitimate divisional threat, the Falcons still needing a genuine quarterback option and the Buccaneers in no man's land. The acquisition of Derek Carr catapulted the Saints to the favorite in the division.
If New Orleans wants to solidify taking home the division, shoring up the run defense is a must. Fortunately, there's a pair of prospects the Saints can pick from: Bryan Breese and Mazi Smith.
Smith will be the pick here, because of the unbelievable athleticism he holds in such a staggering frame. He has had off the field issues, but the destruction he'll cause to offensive lines is undeniable.
30. Philadelphia Eagles: Jahmyr Gibbs, Running Back, Alabama
Philadelphia very easily could address another defensive need with this selection. Instead, adding a legitimate rushing option could yield a higher ceiling. Many believe that Philly could select Bijan Robinson with the tenth pick, but it would make more sense to take Gibbs at the end of the first.
Gibbs is a top-tier running back prospect who is overshadowed by Robinson's uncanny talent. He is a perfect fit for the Eagles offense, serving as a dominating rusher and a solid pass catcher. The addition of Gibbs would provide similar results to last season's success.
31. Kansas City Chiefs: Darnell Wright, Offensive Tackle, Tennessee
The Super Bowl champs enter the draft looking to fill a variety of holes in their roster. Though receiver would make sense, with the way the draft's unfolding, the Chiefs could grab a receiver who's slipped to the second or third round.
Kansas City will prioritize keeping reigning MVP Patrick Mahomes upright. With the loss of Orlando Brown Jr., the Chiefs could use a tackle on either side of the line. Darnell Wright is the perfect prospect for this problem.
Wright has game experience protecting the quarterback at both positions, more recently serving as Tennessee's right tackle. A player like Wright on the line could give Mahomes the opportunity to win many more Super Bowls in the future.
All stats are from NFL.com as of April 26.
Contact the writer: [email protected]
About the Contributor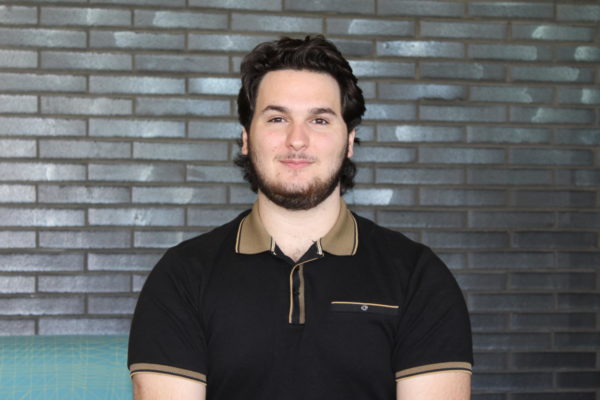 Vincent Goldschmidt, Sports Editor
Vincent Goldschmidt is a sophomore Multimedia Communications Major, on the track of Sports Media, and is the Sports Editor for the Wood Word. Along with...