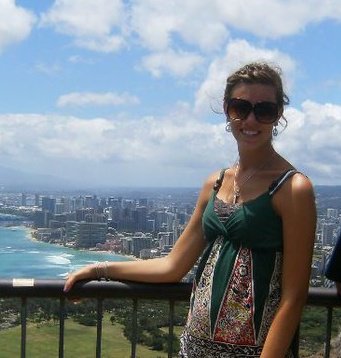 NAME:
Erica Nealon
YEAR:
2015
MAJOR:
Broadcast Journalism
ABOUT:
Aloha! I'm Sports Editor for
The Wood Word
. I enjoy Turkey Hill Iced Tea, getting caught in the sun and long walks on the treadmill. I am a huge Notre Dame fan. I watch way too much television and I have been a dancer for 15 years. Working on
The Wood Word
has opened many doors for me. I like talking to people on campus and getting in touch with everyone in the Marywood community. I am gaining experience that I will need to succeed in my career path, which hopefully will include being a cast member on Saturday Night Live. If that doesn't work out, I will settle for a spot on The Today Show.
Erica Nealon, Sports Editor
Feb 20, 2014

Spring TV lineup a mix of old and new

(Story)

Feb 16, 2014

10 Questions with an Athlete: Tiffany Mathis, Diver

(Story)

Apr 23, 2013

Jones to represent US in Maccabiah Games

(Story)

Mar 25, 2013

10 Questions with an Athlete: Kelly Kryspin, Lacrosse

(Story)

Mar 25, 2013

Marywood Pacers pitch for cancer at PNC Field

(Story)

Mar 25, 2013

The power of plastic: shopping with your student ID

(Story)

Feb 25, 2013

The Madness in March begins on the basketball court

(Story)

Feb 25, 2013

Spring sports poised for success

(Story)

Jan 30, 2013

10 Questions with an Athlete: Cara Cassandro, Swim

(Story)

Jan 30, 2013

Local women invade Marywood basketball

(Story)

Jan 30, 2013

Beyoncé headlines halftime show

(Story)

Jan 30, 2013

Harbaugh brothers collide in Super Bowl XLVII

(Story)

Jan 30, 2013

Marywood soccer earns national recognition

(Story)

Dec 05, 2012

10 Questions with an Athlete: Lindsey Schroth, Basketball

(Story)

Dec 05, 2012

Jingle Bell Run benefits Marywood student service trips

(Story)

Dec 05, 2012

Rock climbers step up to the wall

(Story)

Nov 16, 2012

Top Sports Headlines – November 2012

(Story)

Nov 16, 2012

Coaches' Outlooks for the Winter Season

(Story)

Nov 16, 2012

10 Questions with an Athlete: Shane Quinn, Soccer

(Story)

Nov 16, 2012

Three-peat for women's XC

(Story)

Oct 17, 2012

Art director inducted into PA Hall of Fame

(Story)

Oct 17, 2012

10 Questions with an Athlete – Jamie Bowman, Field Hockey

(Story)

Oct 17, 2012

Marywood runs at the Steamtown Marathon

(Story)

Sep 20, 2012

Senior Outlooks for the Fall Season

(Story)

Apr 18, 2012

Sensei Siemong Wang Brings Martial Arts to Marywood Campus

(Story)

Jan 31, 2012

Andy Blevins: Diving in with Swimmer

(Story)

Dec 06, 2011

Ashley Murray: Freshman Basketball Rookie

(Story)

Nov 20, 2011

Becca Schoenberg: Women's Tennis Rookie

(Story)

Oct 23, 2011

Diana D'Achille: Cross Country Competitor

(Story)

Oct 23, 2011

Brett MeGee: Soccer Standout

(Story)